Description
Toe
Kingpin Toe – The PinTech design on the KingPin toe piece promotes an ergonomic rolling up the foot and the most direct possible connection to the ski. Six steel springs capture the energy optimally, up to a DIN setting of 13. Individually adjustable positioning blocks make it quick and easy to step in no matter what the conditions.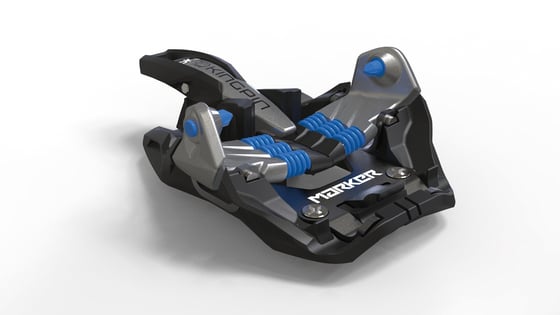 Updated Toe – These bindings have updated toe pieces from Marker and are not affected by the August, 2018 recall.
Heel
Kingpin Heel – The revolutionary heel construction for the PinTech bindings features wide sole contact points to deliver the kind of direct, lossless power transfer more frequently seen in alpine bindings.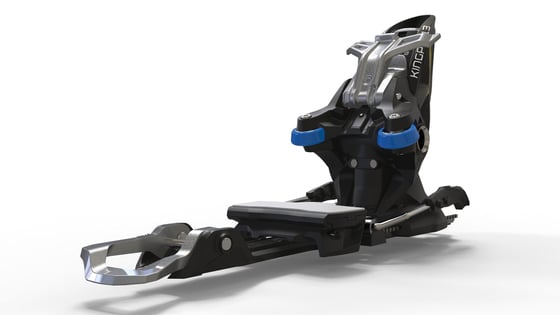 Tour Mode
Kingpin Climbing Aid | 0° / 7° / 13° – Good climbing aids have one thing in common: Whatever the situation, they can be operated by feel, even when the skier can't see them clearly. Simplicity is a virtue here, and reduced exertion is even better. The KINGPIN wins hearts and minds through two integrated climbing aids (7° and 13°) that are easily deployed or stowed using the basket of the pole. They can also be operated conveniently using the tip of the pole, allowing them to work with any basket style. Because the climbing aids are positioned in the upper center of the heel piece, they are always easy to reach.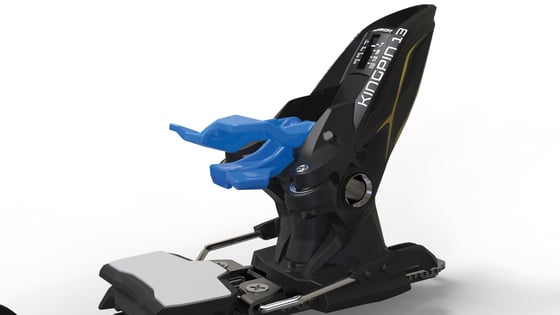 Walk / Ski Modes – The refined locking/unlocking procedure for the heel piece is part of the binding's charm. It takes just one step to switch from walk to ski mode: Simply flip a lever, push down on the heel and you're good to go. The mechanism works even in critical situations and challenging descents.
Boot Compatibility
One Size Fits All – Boots with tech toe fittings are required.
Additional Features
TÜV Certified to ISO/DIN 13992:2007 – The Marker Kingpin is one of only a few tech touring bindings to have passed the ISO/DIN 13992 standard.
Recommended Skier Weight – 130+ lbs
Crampon Compatible – 80, 90, 105, and 120 mm versions available separately.
Two Brake Sizes – 75-100 mm and 100-125 mm
Ski Compatibility
We recommend a brake width equal to or at most 15 mm wider than the ski waist width.
Extra Information